Blackfly Presses:
Jim And Blair Do The World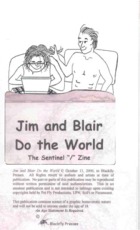 ---
Seven stories featuring Jim and Blair in adventures all over the world. Zine includes Sentinel-themed cartoons.
Price: $24.93 U.S. shipping included.
"The Last Time I Saw Sandburg" by Alyjude
Sandburg leaves; Jim must get him back. Same old same old, you say? Not this time! Alyjude treats the subject with great depth and perception, making all that's old new again. With intense sensitivity, she builds a reality where plot, characterization and love all play an integral part in bringing us a story that requires much re-reading, and leaves a definite presence on our Sentinel landscape.
"Waiting for Words" by Cara Chapel
Jim and Blair vacation in North Carolina's Outer Banks where a beautiful, insightful tale unfolds. Away from their lives in Cascade, Jim reflects on his relationship with Blair, and realizes his focus has been too far afield: some fine-tuning is in order. Relatively new to TS fandom, Cara is an discerning writer who pours her soul into her prose, her use of language as delicate and uplifting as the tale itself.
"Amusement Spark" by Bog
Continuing their romantic saga from "Canada's Paramour's Blunderland" in Jim And Blair Do Canada, our detective duo heads to the Sunshine State for some blissful downtime. Warning: highly entertaining antics ensue!
"Fall Toward Grace" by Stormy
On that fateful night, September 20, 1999, during the much-anticipated SciFi Chat, our hero, Danny Bilson, stated: "[Jim's] mom runs a brothel in Spokane..." With nothing more than this premise, Stormy brings us an Alternate Reality tale featuring laughter and love, and Grace Ellison like you've never seen her before!
"The Oktoberfest" by Geli
How has Oktoberfest survived for 200 years without Jim and Blair? And how will Jim and Blair survive Oktoberfest? Read Geli's romp through the time-honoured German festival to find out. And who can resist a drunken Blair? Not Jim, that's for sure!
"The Valley of Ghosts" by Bluewolf
Knowing his Sentinel desperately needs respite from the 'the most dangerous city in America', Blair arranges a pleasure trip to Scotland. While there, they visit a number of ancient sites of anthropological significance: in particular, a mysterious circle of standing stones. We can't reveal any more, except that it's an enchanting first-time story.
"I Surrender" by DragonGuide
Blair wins a Caribbean cruise, and guess who he takes along as his travelling companion? Ah, the warm nights, the lush days, the small cabins, the double bed! The Sentinel gets a tour of the islands, a nice tan, and a clue - all in one fast-paced little story.
---
------------------------------
Last modified June 21st, 2006.
------------------------------
Webmaster: Trudy A. Goold - webmaster@t1goold.net