Blackfly Presses:
Jim And Blair Do The Movies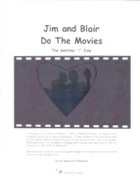 ---
NEWS: June 07/2007!
This zine will be going out of print once our current stock is exhausted.
---
Blackfly Presses goes Hollywood! Seven stories featuring Jim and Blair in the movies. Zine includes Sentinel-themed cartoons.
Price: $32.23 U.S. shipping included.
"Jim and Blair and the Eye of God" by Cara Chapel
Always a joy to read, Cara Chapel brings us this evocative tale of love lost and found. Mysterious Professor Indiana Jones sends Sentinel and Guide to find a mystical relic. Will this quest doom their strained relationship?
"Notoriety Comes to Those Who Wait" by Gena Fisher
Based on the classic film, Notorious, Gena's daring story will thrill and shock you. Blair Sandburg finally finds his father - an infamous crime lord! Then the DEA coerces the suddenly notorious student into infiltrating the Carasco Family. Agent Ellison is torn. Can he believe in Blair?
"Sentinel in Black" by Jenny Saypaw
Police Observer Blair Sandburg is amazed his perp is an alien. Then handsome Agent Jay appears, and nothing is ever the same again. Jenny's adaptation of the Men in Black screenplay gives us the creativity, humour and angst that made the movie such a hit! Aliens, space ships, high-tech weaponry, and now Jim and Blair!
"Entrapment" by Stormy
Plot, plot and more plot! Is Jim the jaded rich man who steals for entertainment or is he undercover to catch a thief? Is Blair a bored office worker, a novice criminal or a cop? Based on the screenplay, this story has more twists and turns than the Cascade Freeway. Even if you've seen the movie, you're in for a few surprises. And Stormy has added an amusing epilogue, written in her unique style, that adds yet another curve even as it wraps up loose ends.
"The Haunting" by Rogue
Jim Ellison answers an ad that purports to be an experiment of one sort, but turns out to be something else altogether. He meets young Professor Sandburg and sparks fly, although who's haunting whom remains to be seen. Rogue paints word pictures for us so vivid, you'll swear you're really watching a movie.
"Sentinel's Van Doom Vacation" by Bog
A road trip to Nevada with Jim, Blair, Simon, Daryl, Rafe and Connor. What could possibly go wrong? Riiiiiight! Borrowing the premise from "National Lampoon's Vegas Vacation", Bog takes us on a wild ride with the Major Crime gang. This is the third and final story in Bog's amusing trilogy where Jim and Blair think they're being discreet - but everybody knows! (The first two are "Paramour's Canada's Blunderland from Jim And Blair Do Canada and "Amusement Spark" from Jim And Blair Do The World.)
"Tomb of the Pharaoh" by Geli
Early Hollywood director James Ellison wants the best from his spoiled star. The matinee idol, however, just wants him. This is a fascinating story of another era, brought to life with Geli's striking imagery and interesting characterizations. And watch for her signature blurring of the gender lines - but don't look for femme!Blair here!
---
------------------------------
Last modified June 7th, 2007.
------------------------------
Webmaster: Trudy A. Goold - webmaster@t1goold.net