Blackfly Presses:
Chinook Vol. 8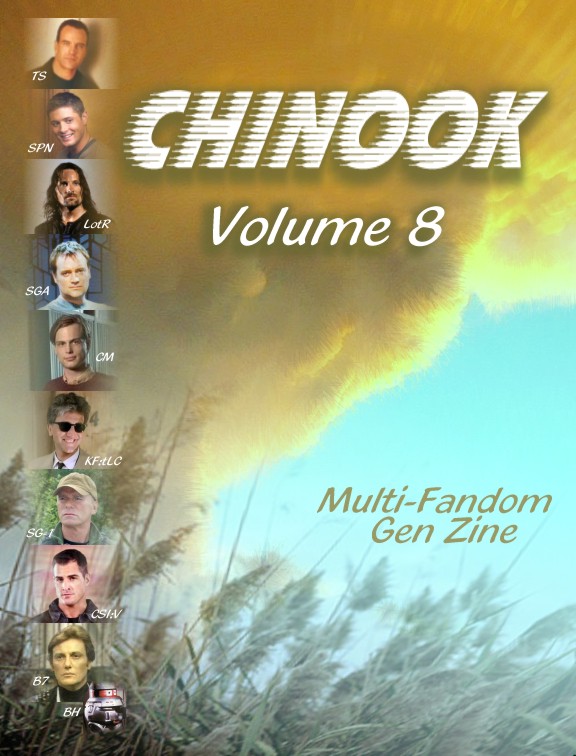 ---
The last volume of our popular gen multimedia anthology contains a huge 18 multi-fandom stories in a variety of genres; each story has a colour title page. Also accompanied by Blackfly's usual fun and games...
Comb-bound, 8.5" x 11".
Price: $34.27 U.S. shipping included.
"One Good Friend Deserves Another" by James
CSI: Vegas. Nick is surprised to find himself babysitting Grissom's latest acquisition, which strangely isn't a bug.
"Angels in the Dark" by Black_Wingedbird
Supernatural. An icy mountain road leaves the brothers in desperate need of rescue.
"Words Unspoken" by Sheila Paulson
Lord of the Rings. Éomer catches her eye across the courtyard. The future opens before him.
"Occupational Hazards" by Lyn T. and L.A. Adolf
The Sentinel. It's just the flu. Blair can handle this emergency, no problem.
"What's at Home, Counts" by Audrey Lynne
Stargate: Atlantis. What do you do when home isn't 'home'?
"Scandal Prevention" by Anne
Kung Fu: The Legend Continues. Hired killers don't actually advertise in the Yellow Pages.
"It's a Job, Jim" by Annie
The Sentinel. And Blair thought this job would be easy....
"Out of the Frying Pan" by Sue Macdonald
Blake's 7 / Black Hole. The Liberator crew comes to the rescue of three people (and a robot) claiming to have survived an impossible journey.
"Questionable Results" by Carole Seegraves
The Sentinel. Blair comes under suspicion after damning lab test results.
"Everything About Life I Learned from My Spirit Guide" by Nightowl
The Sentinel. Philosopy of Sentinel and Guide.
"Your Fight Is My Fight" by IMTheresa
Supernatural. Is Sam seeing a ghost, a hallucination or something else?
"Scratching the Itch" by TAE
The Sentinel. Medical poison ivy.
"Burden of Priority" by MalantiMage
Stargate SG1. Jack is at a loss to explain his reservations about a past mission.
"Mothers and Sons" by Lyn
Criminal Minds / The Sentinel. A distraught mental patient won't rest until her FBI agent son finds Naomi Sandburg... to warn her about a ghost from the past.
"Stalking the Stalker" by TAE
Kung Fu: The Legend Continues. Peter endures much to lure a killer into the open.
"Letter from a Stranger" by Tai
The Sentinel / Mysterious Ways. Mysterious letters hold a startling revelation for Blair.
"Imperfect" by K Hanna Korossy
Supernatural. After a disturbing revelation, Sam's rejection of Dean may lead to tragedy.
"The Secret of the Bones" by Sheila Paulson
Lord of the Rings. Throne room renovations reveal a hidden corpse and a mystery from Aragorn's earlier stay in Minas Tirith.
---
------------------------------
Last modified June 7th, 2007.
------------------------------
Webmaster: Trudy A. Goold - webmaster@t1goold.net